Published in artsreview.com.au 4/11/20
Original Article: Hooked on Classics Review
Article by Bill Stephens OAM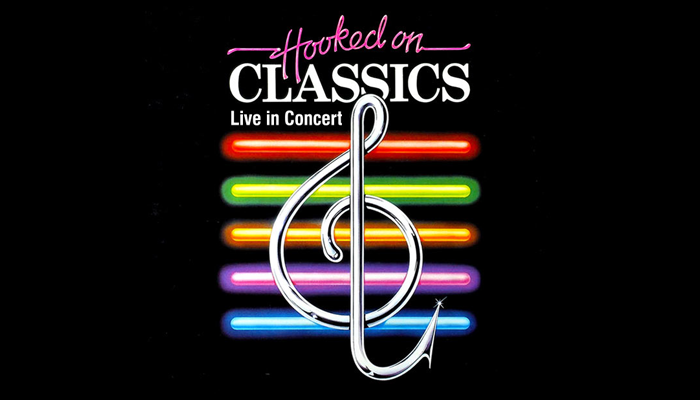 In 1981, British musical arranger, Louis Clark, had the idea of setting a string of favourite classical themes to a persistent disco beat, for a recording by the Royal Philharmonic Orchestra.
It was an idea which struck a chord with thousands of people who didn't know they liked classical music, but knew a good tune when they heard it.
For classical music lovers, the brilliance with which Clark arranged his snippets provided an intriguing challenge to recognise the source of each melody.
Originally published on vinyl by K-tel, and distributed by RCA records, Hooked on Classics found an enthusiastic audience, and soon became a series which spread beyond classics into other genres including musicals, opera, swing, baroque and brass bands, and became a staple in thousands of record collections.
Nearly forty years later, Australian conductor, George Ellis, whose forte is popular symphony orchestra concerts, has taken a selection of the most popular Louis Clark arrangements, formed a 28 piece symphony orchestra, added a quartet of fine singers, and a jovial MC and fashioned a highly entertaining touring concert which found an appreciative audience for its single Canberra concert.
The performance commenced, surprisingly, not with one of the classical medleys, but with an exhilarating rendition of Hooked on Rodgers and Hammerstein, which introduced the full company of musicians and singers.
The classical medleys followed of course, where the imposition of the strictly maintained driving beat, which characterises the arrangements, revealed unexpected nuances while the smart pace set by Ellis with his dynamic conducting adding an extra degree of difficulty for the musicians and singers.
Recognising that a whole evening of unrelenting rhythm could become tedious, Ellis sprinkled a selection of musical bon-bons through the program. Ennio Morricone's The Good, the Bad and the Ugly and The Magnificent Seven, the stirring march from Prokofiev's Romeo and Juliet, and The Pink Panther Themefeaturing Loretta Palmeiro's luscious saxophone playing, showed off the brass section.
The strings got their turn with a flashy arrangement of Brahms' Hungarian Dance No. 5, for which Dimitri Calligeros was the dazzling violin soloist. Soprano Georgia Melville, and contralto, Sarah Levine, performed a lovely version of the popular duet from Lakme.
Melville and tenor, Nathan Bryon also featured in the popular Brindisi from La Traviata. Bass, Kim Poole, was the fourth member of the excellent quartet, which became a formidable choir for some of the medleys.
Judicious amplification added to the enjoyment, by allowing the work of the soloists, both instrumental and vocal, to be highlighted, as did radio personality, Scott Bevan, who had obviously done his homework, injecting sly Canberra references into his genial introductions, which provided a much needed moment for the hard-working musicians to catch breath between the demanding items.
Keeping the best to last, Ellis saved the famous original classical medley, which started the Hooked on Classics craze, for the inevitable encore, leaving his clearly delighted audience clamouring for a return visit of this superbly performed concert of classical and popular music.